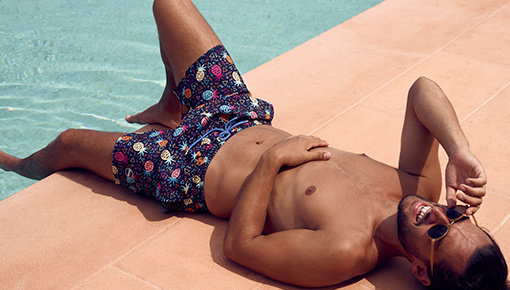 Printed swim shorts
Check out our new range of printed swim trunks and shorts. Which print will you go for?
Read more
Swimming trunks with print
Are you looking for a nice pair of printed swimming trunks? Then Underwear District would like to help you! We have a wide range of men's swim trunks with print. So you always look good at the beach, pool or any other warm location. The printed swim trunks are available in different sizes and have an elastic waistband with a rope closure. This allows you to pull the trunks as tight as you want. In addition, the printed swimming trunks have two side pockets and a back pocket, which can be closed with a Velcro fastener. This way you can easily take small stuff with you!
The printed swim shorts are fashionable and increasingly worn. Logically, because they are cheerful and bring with them a real summer vibe. The men's printed swimming trunks from Underwear District have different prints for you to choose from. Are you going for an animal print, like the flamingo, toucan or the yellow rubber duck? Or do you prefer a pattern with marine life, colorful palm trees or Hawaii? The choice is all yours! We also have printed swimming trunks in both rainbow and black and white stripes. The printed swim trunks have mesh inner shorts, which makes them more comfortable to wear. When you have used the printed swim trunks, it will be completely dry in no time because of the quick drying fabric. At Underwear District you buy a nice pair of printed trunks for a low price!
Buy your swimming trunks with print at Underwear District
.
Are you already decided which printed swimming trunks you want? Buy your swimming trunks with print at Underwear District! Besides a wide range of products, the men's printed swimming trunks are very comfortable to wear. Because of the different possibilities there is always a suitable men's printed swimming trunks for you! You can easily order the swimming trunks through our website. You place the product in the shopping cart, checkout safely and when ordered before 23:59, it will be delivered the next day! For an order value of € 35, - or more we also send the swimming trunks for free to your home. So buy now a pair of swimming shorts with print at Underwear District!
Questions?
Do you have any questions about the printed swim shorts, the delivery or our other products? Please feel free to contact our friendly staff. They will gladly help you and provide you with expert advice.